Standardisation and interchangeability of valves has made it quite easy for firms to repair and replace the valves en mass today. However, it has not exactly been an easy journey. 
How the Valve standards came to be developed, and how are they still impacting business? These are the questions we now seek to answer in our special three-part series on valve standards.
In part I, we delve into story of how valve standards evolved over time?
In 

the

beginning, different

valve

manufacturers had their own standards.
In early 19th century, there were no standards for valves, and customers needed to specify the flange drilling they required. Efforts to standardise valves began in 1912 to address the problem of valve-interchangeability. 
A body called Manufacturers on Standardization of Pipe Fittings and Valves was formed to look into the problem. By 1924, this body evolved into Manufacturers Standardization Society. 
In late 19th century, another serious problem was threatening to blow up Industrial revolution, literally: Frequent explosion of boilers.
This was taking a toll not just on costs but also on lives of workers. The American Society of Mechanical Engineers (ASME) was formed in 1880 to look into the issue. This organisation drafted Boiler and Pressure Vessel Code (B&PVC) in that year itself. The code was expanded in 1914 to cover valve standards. By 1924,the American Petroleum Institute and ASME accepted MSS valve standards. 
While 1930's saw rapid development of

valve

 standards, 

the

 progress slowed immensely during 

the

 second world war.
The API 600 document that governs valve standards for steel gate valves was published by the American Petroleum Institute in 1939. 
The

 industry spent 1950's grappling with several limitations in 

valve

 standards based on flange ratings.
During his time, the butt welding end pressure seal bonnet valve was becoming popular, and the need for new regulations was felt. The response to these issues came in 1964 from the MSS. The new SP 66 Pressure and Temperature Rating considered mechanical properties of materials for different valve parts to determine the wall thickness and ratings of valves.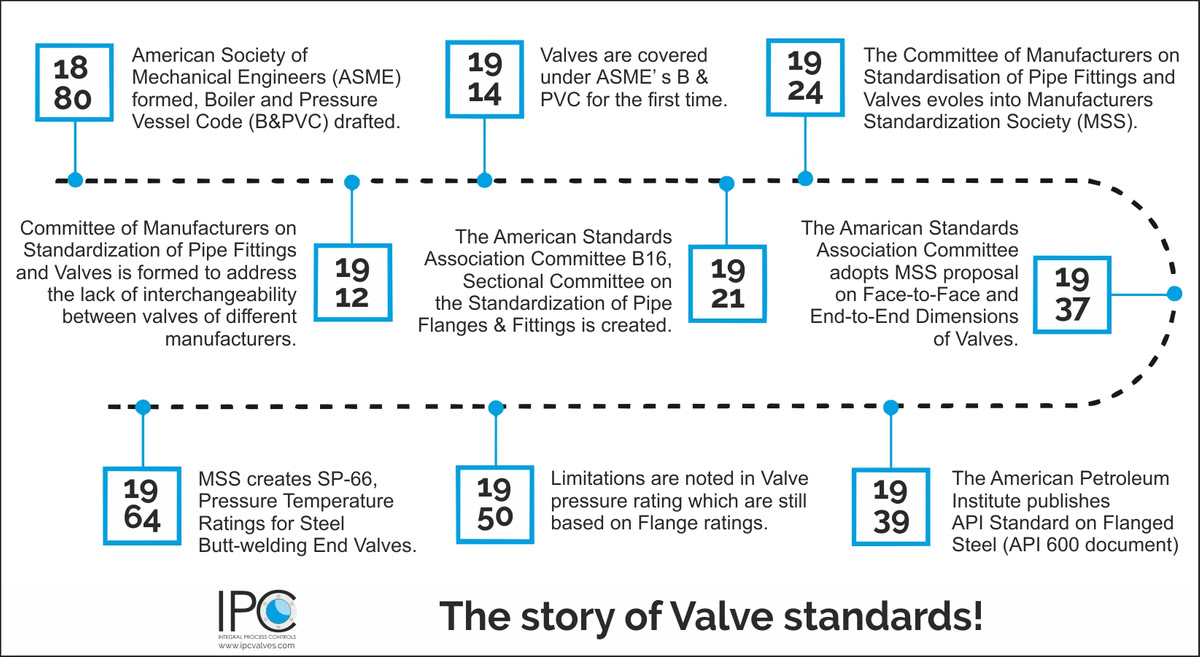 Mid 20th century till today…
Today, the ASME B16.34 Standard for Valves – flanged, threaded and welding end applied to new construction have evolved as an important guideline. It covers pressure-temperature ratings, dimensions, tolerances, materials, non-destructive examination requirements, testing, and marking for all types of cast, forged, and fabricated valves in various materials such as steel, nickel-base alloys, and other alloys.
In India, particularly, standards for Gate Valves as per BS 1414 and API 600, Globe Valves as per BS 1873 & Swing Check Valves as per BS 1868 and API 6D are prescribed.
In the 20th Century, the valve standards are also evolving on two lines – MSS SP-44 and API 605 (for flange designs and bolt patterns of the tow standards).
In the next newsletter, we take a detailed look at the world's most prominent valve standards organisations, as they evolved over time.
Stay tuned….